Thursday, Apr 21, 2016
5:00 pm PST - 6:30 pm PST
William Rolland Gallery of Fine Art
160 Overton Court
Thousand Oaks, CA 91360
Back by popular demand! Come showcase your latest work or vote for your favorite performances. The audience reactions will decide the winners for this event, with gift cards for the winners. Poems can be memorized or read off of the page. Poets must read and/or perform their own work. No fee to enter, no previous experience necessary. All styles welcome, public is welcome and encouraged to participate and attend. Sign-up sheet will be available at the door.
David A. Romero is a Mexican-American spoken word artist from Southern California. Romero is the second poet to be featured on All Def Digital, a YouTube channel from Russell Simmons. Romero had opened for Latin Grammy winning bands Ozomatli and La Santa Ceclilia. Romero's work has been published alongside poet laureates Luis J. Rodriguez, Jack Hirschman, Alejandro Murguia, and Lawrence Ferlinghetti. Romero has appeared in-studio numerous times on multiple programs on KPFK 90.7 FM Los Angeles. Romero's poetry deals with family, identity, social justice issues and Latino culture.
This just in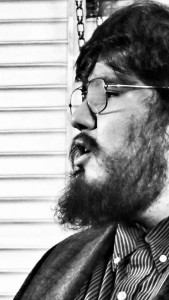 ! Poetry Slam! will again be co-hosted by Matt Sedillo. Matt Sedillo is a two-time national slam poet, grand slam champion of the Damn Slam Los Angeles 2011 and the author of For What I Might Do Tomorrow published by Caza De Poesia 2010. His poetry has been published in anthologies alongside the likes of such literary giants as Amiri Baraka, Lawrence Ferlinghetti, Jack Hircshman and Luis Rodriguez. Sedillo writes from the vantage point of a second generation Chicano born in an era of diminishing opportunities and a crumbling economy. His writing – a fearless, challenging and at times even confrontational blend of humor, history and political theory – is a reflection of those realities.
Sponsored by the Artists and Speakers Series at Cal Lutheran.